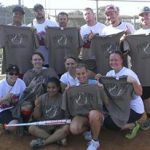 Aug. 10, 2014 Eddie C Moore Fields 1-4 Clearwater
Please submit your completed roster 5 business days prior to tournament date. Any team without a completed roster submitted within 5 business days of event will be placed in upper level.
Stealing is allowed but not  home. ASA approved Balls and Bats. NO Sr. bats. (see rules for other non approved bats)
Any team who has registered and drops 4 days prior to event will need to pay 1/2 the entry fee the next time they register. Any team who registers and do not show will need to pay the full entry fee the next time they register. No refunds.
Fielders: 4 girls 6 guys      Batting: 7 guys to 4 girls, 8 guys to 5 girls. May bat more girls than guys, up to 13 batters. No more than 2 guys in a row batting. Designated runner must be listed on the line up card.
No verbal re-rankings will be accepted. 
 You will not be given a courtesy call, regarding players and divisions.  
 ****please note, there is a drop down box to enter a division level for your team, this does not mean you will be in that division. We will do a roster check to determine the division. Please be considerate, if your team has players who play regularly, you should select the appropriate division for the skill level of your team. 
Please note: TBS has the right to change the format of the tournament at any time before or during the tournament due to any acts of god, or any situation that requires a change such as lighting error, time restrictions, etc.. This means if the tournament has to end due to Acts of God, we may go to a coin toss, to determine winners.  Any game played 5 innings will be considered a complete game.  
 While reasonable effort has been made to ensure the accuracy of the information on this website, Tampabay Softball does not assume responsibility for any errors or omissions.
Tampabaysoftball@gmail.com